Bunions – Pain in the Foot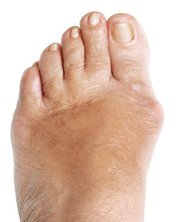 In many wardrobes, shoe style takes precedence over comfort. It feels good to look good.  However, this is not always the best for our bodies. Feet often bear the burden of choices in shoes.  Cramming your feet into a pair of size 9's, when they should be 9.5s, can be detrimental – no matter how good the deal was.
 It is the same situation for tight-fitting shoes and high heels.  They look nice, but they're harmful to the normal contour of the feet.  With prolonged usage, alterations to the normal foot pattern can lead to the formation of bony protrusions called bunions. 
 A bunion can be an eyesore, although the real sore is typically experienced on the great toe and sometimes the fifth toe (Taylor's Bunion).  Many bunion sufferers refuse to wear revealing sandals or strappy heels in an effort to hide them.  For others, abrasion on bunions from their normal footwear is unbearably painful, so they search for larger/wider shoes that relieve pressure.
 Either way, men and women want them to vanish, immediately.
 For mild bunions, preventing the bunion from enlarging is key.  Prevention can be found with orthotics that relieve pressure on the bunion.  
Call to have your foot examined and a complementary gait analysis.  Correcting it early is just as important as getting your spine aligned.