Ball Bridge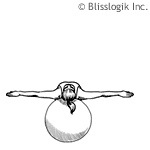 Ball Bridge T Fall-Off
Lie on your shoulder blades on top of the exercise ball, knees at 90 degree angles, back straight and extend your arms out to keep balance.
Roll off the ball slightly to one side and return back after a short pause. Alternate sides between each repetitions.
Keep your back straight throughout.