Morton's Neuroma – Foot Pain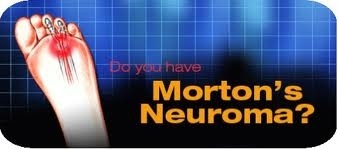 What is it?
Morton's Neuroma; a trapped or pinched nerve between the metatarsals.
What are the common symptoms/complaints?
Sharp pain between the shafts of the metatarsals, numbness and tingling sensation that radiates through the toes.
How is it caused?
The most common causes for neuromas are tight fitting shoes, high heels and over-pronation. With over-pronation, a pivoting on the 3rd and 4th metatarsals can cause a shearing force. This shearing force between the 3rd and 4h metatarsals entraps the digital nerve and causes inflammation. The inflammation is the source of pain.
How is it treated?
Morton's Neuroma pain can be momentarily relieved by massaging the affected area. Control of the abnormal transverse plane motion of the foot is successful in reducing the symptoms associated with a neuroma. Orthotics should be prescribed, as they will help to diminish excessive transverse plane rotation between the medial and lateral columns of the the foot, reducing pain and inflammation caused by Morton's Neuroma.